How Will an MD (Doctor of Medicine) Program Help You Grow?
How Will an MD (Doctor of Medicine) Program Help You Grow?
Pursuing a Doctor of Medicine programme can take you through a  transformative journey that goes beyond acquiring medical knowledge and skills. Moreover, with nearly 1,301,319 allopathic doctors already registered with state medical councils and the National Medical Commission as of November 2021, this course presents countless opportunities for personal and professional growth.
Eager to learn how an MD course can help you grow? If so, please keep reading this blog, which will develop vital qualities, broaden your perspective, foster compassionate care, and enhance your overall career prospects.
MD (Doctor of Medicine)- Course Overview
Doctors primarily enrol in MD courses to upgrade their research degrees in the disciplines they work in. Moreover, a top-ranked medical college in India, Terna Medical College also offers this super speciality advanced degree with an emphasis on the causes, impacts, and detailed diagnosis of illnesses and medications.
A few quick facts about the MD course are tabulated below:
| | |
| --- | --- |
| Level of Education | Postgraduate |
| Course Duration | 2-3 years |
| Degree Type | Full-time |
| MD Admission Process | Merit and Entrance-based |
| Top MD specialisations | Radio Diagnosis and Imaging, Anesthesiology, General Surgery, Dermatology, Venereology & Leprosy, Community Medicine, Psychiatry, etc. |
Candidates must initially be eligible to pursue an MD degree at one of India's medical colleges, and the typical doctor of medicine qualification includes the following:
Must hold a valid MBBS degree.
Should appear for the NEET entrance examination.
Different colleges have various minimum aggregate score requirements. All applicants should therefore carefully read the qualifying requirements provided by the college of their choice.
If you possess particular expertise in the field of medicine, the MD scope is advantageous. Although, you will succeed in the healthcare sector even if you only have an MBBS degree. But, with in-depth information from an MD degree, you will develop the best diagnostic abilities, confidence, responsibility, and communication skills. As a result, after receiving an MBBS, your career graph would have an upward trend with specialisation through an MD. You can also become a skilled specialist or surgeon in India if you have an MD.
Some of the top-most MD career options are listed below:
General Surgeon
Dermatologist
Paediatrician
Orthopaedic Surgeon
Gynaecologist
Cardiologist
Psychiatrist
General Medical Practitioner
Why is MD important after MBBS?
You can deepen your expertise in a particular area of medicine by taking different types of MD after MBBS study. Additionally, this course will help you improve your ability to effectively diagnose patients so that you can give them the proper care at the appropriate time.
Now, let us talk about the key elements of an MD course that can advance you:
● Instills Comprehensive Medical Knowledge
Giving students a solid foundation in medical sciences is the cornerstone of any MD programme. It also lays the groundwork for future development and specialisation across a range of medical specialities. Along with giving you the fundamental knowledge needed to become a qualified doctor, the MD courses list will further help you to improve your analytical, problem-solving, and critical thinking skills.
● Develops Practical Skills through Clinical Training
In addition to theoretical instruction, an MD curriculum offers significant clinical training that gives you firsthand experience in actual medical situations. You will learn how to communicate with patients, carry out physical examinations, decipher diagnostic tests, and create treatment plans while working under the supervision of professional clinicians. Additionally, this hands-on experience develops your decision-making and communication skills and instils a feeling of accountability and compassion for your patients.
● Encourages Collaboration and Interdisciplinary Learning
The multifaceted field of medicine necessitates cooperation and collaboration. Hence, choosing the best MD branch after MBBS exposes you to a variety of medical specialists, including nurses, therapists, chemists, and other doctors. Working with people from different backgrounds also helps you build communication skills, cooperation abilities, and an appreciation for various viewpoints. Overall, these opportunities not only enhance patient care but also help you grow personally by expanding your horizons.
● Cultivates Empathy and Compassionate Care
Compassionate care is one of the fundamental tenets of medicine. You will also see how sickness affects people and their families via patient encounters, which can help you improve your bedside manner and empathy. Moreover, MD benefits extend beyond just identifying and treating ailments; they also include knowing what patients require on an emotional and psychological level. Your capacity to support patients through difficult times and establish stronger connections with them will be improved by this humanistic approach, which also supports personal growth.
● Nurtures Professionalism and Ethical Standards
Upholding moral principles and remaining professional is of the utmost importance as a future doctor. Therefore, an MD curriculum instils these values by placing a strong emphasis on honesty, responsibility, and moral judgement. Additionally, via conversations, case studies, and contact with mentors, you will gain the ability to resolve difficult ethical decisions. This focus on professionalism not only helps you develop into a trustworthy healthcare practitioner but also gets you ready for the demanding nature of the medical field.
● Handsome Salary
The salaries you receive after earning an MD degree and just having an MBBS degree vary significantly. This is because being an MBBS graduate, you can earn anything from INR 30,000 to INR 1 lakh each month by working in the majority of other fields. But, you can anticipate making between INR 2 to 20 lakhs as an MD graduate in India. The following graph shows some prominent MD jobs and their corresponding compensation ranges: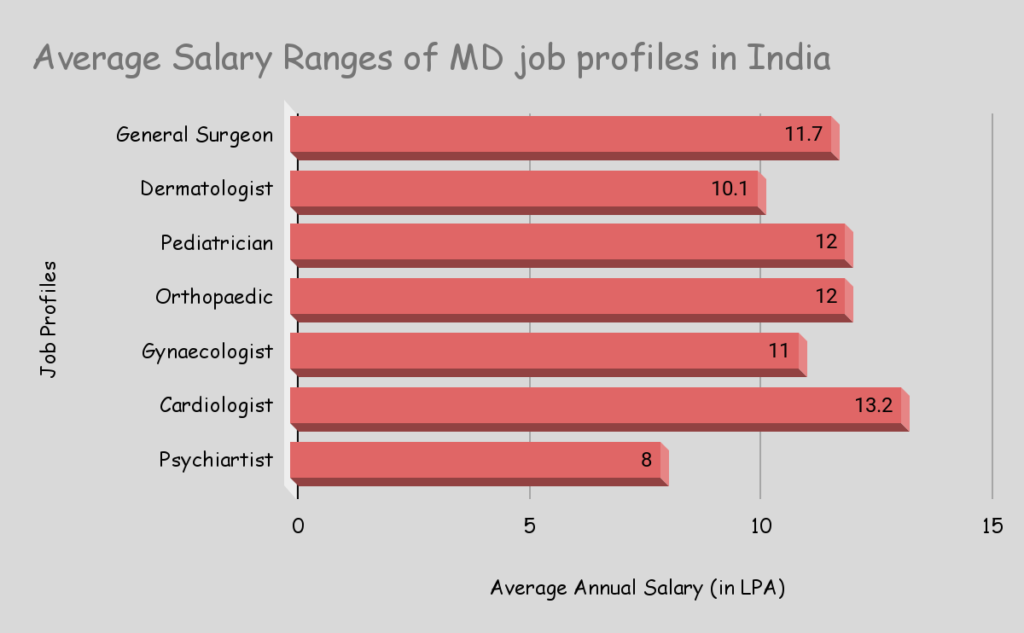 Embarking on an MD programme is much more than acquiring medical knowledge. And, as you progress through the course, you will develop essential qualities such as critical thinking, empathy, teamwork, and professionalism. Furthermore, by completing a Doctor of Medicine programme, you open doors to countless opportunities, enhance your career prospects, and most importantly, make a significant impact on the lives of the patients you will serve.
What is the scope of MD?
MD graduates are frequently hired in hospitals and clinics, research and educational institutions, biomedical and pharmaceutical firms, the military, etc. They also become eligible to establish their private clinics.
What skills are required to pursue an MD course?
To pursue a Doctor of Medicine course, you must be equipped with patience, communication skills, empathy, physical strength, attention to detail, critical thinking, etc.
Which specialization is best after MD?
There is no one best speciality following MD due to the variety of professions and prospects within the medical field in India. Moreover, the optimum specialisation depends on the interests and preferences of the individual.
What is the highest package of an MD doctor in India?
According to AmbitionBox, the highest pay an MD doctor in India may receive is ₹29.0 lakhs per year, which is ₹2.4 lakhs each month.
What career is best for MD?
The completion of an MD programme opens up a wide range of career options, including those for employment, a career in academia, and opening a private practice. The best post-MD career, however, differs from person to person.