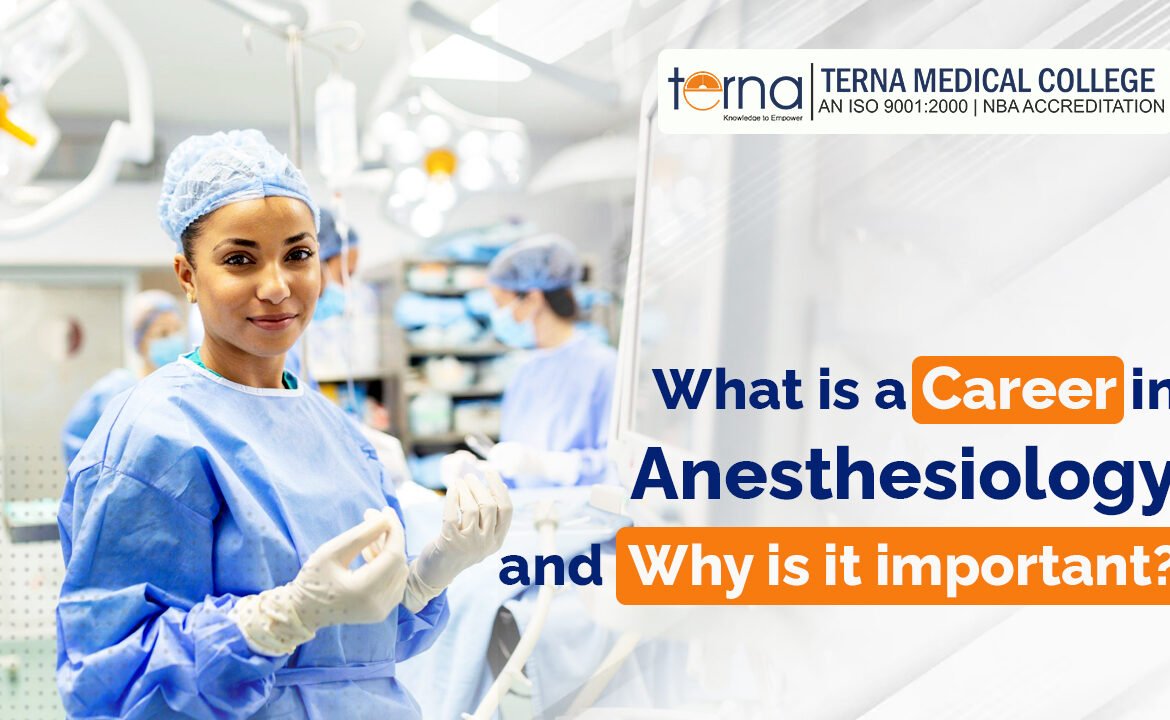 What is a Career in Anesthesiology and Why is it Important?
What is a Career in Anesthesiology and Why is it important?
As you are aware, anesthesiologists conduct difficult and crucial tasks in many surgical procedures to ensure the patient's safety and comfort. Additionally, reports estimate that there are about 6755 anesthesiologists in India, giving the field a significant and widespread following.
Given such circumstances, are you interested in finding out more about what a career in anesthesiology comprises and how it benefits the success and well-being of patients undergoing surgery? You can check our blog in both of these scenarios.
How to Make a Career in Anesthesiology?
Anaesthesia is a specialised area that calls for considerable training and knowledge. To prepare responsible doctors, the Terna Medical College in Mumbai offers anesthesiology courses at various levels. And, if you are interested in learning how to become anaesthetist or looking for the right courses to do so, check out the table below:
| | | | |
| --- | --- | --- | --- |
| Course Name | Degree Level | Course Duration | Minimum Eligibility |
| MBBS in Anesthesiology | Undergraduate | 5.5 years | Complete 12th with Physics, Chemistry, and Biology with at least 50%. |
| MD in Anesthesiology | Postgraduate | 2-3 years | Must hold an MBBS degree with a mandatory 1-year internship. |
What does an Anesthesiologist do?
The task of creating preoperative care strategies and pain-relief treatment programmes falls to professionals who have an MD and  MBBS anesthesia. Also, they mostly give medicines to patients during surgical procedures like caesarean sections, cataract operations, breast biopsies, coronary artery bypasses, etc. Moreover, anaesthetics are the medications that these professionals administer to patients to dull their perception of pain during medical procedures.
They finish the following tasks throughout each stage of surgery:
1)  Before Surgery
Working with patients before surgery to get them ready for the treatment and make sure they can handle anaesthetic is a requirement of the anesthesiologist job opportunities. Also, anaesthesia specialists thoroughly go over your medical background and respond to any inquiries you may have regarding the anaesthetic process as it relates to your medical procedure. Before the procedure, an anaesthetic is given, and your vital signs are then monitored.
2) During Surgery
To control discomfort and keep track of any vital signs, anaesthesia physicians keep an eye on the patient during the entire surgery procedure. They also take care of any ongoing medical ailments a patient may have, including diabetes or asthma. In addition, the doctor is in charge of managing any issues that can emerge throughout the treatment.
3) After Surgery
A career after MD Anesthesia includes assessing the patient's recovery right after the surgery. Additionally, the doctor notifies the medical staff when a patient is ready to leave the hospital or go elsewhere while still under anaesthetic, as well as how well they are recovering from the effects of anaesthesia. They can also assist in developing a strategy to control a patient's pain after they leave the hospital.
Why choose Anaesthesia as a Career?
The voice of an anesthesiologist is the first thing a patient hears after awakening from anaesthesia and the last one they hear before undergoing surgery. Moreover, when things get tense, they reassure patients and maintain their composure.
Now, let us review some perks of being an anesthesiologist in detail given that these specialists occupy a significant role in the medical sector:
● Diversity in Practice
A variety of patients, including those in need of maternity or dental care, are treated by anesthesiologists. They can work in a variety of fields, including research, paediatrics, ambulatory anaesthesia, obstetrics, and critical care unless they turn into a specialist. Also, since they are members of a medical team, they can benefit from the different perspectives of other experts, which will improve their approach to work.
● Competitive Salary and Job Security
Anesthesiologists are among the highest-paid specialists due to the vast field of scope after MD anesthesia. They also have a high degree of job stability because anesthesiology specialists are required by all surgical centres and hospitals to oversee and coordinate procedures. Additionally, young anesthesiologists and recent graduates can readily and rapidly find jobs.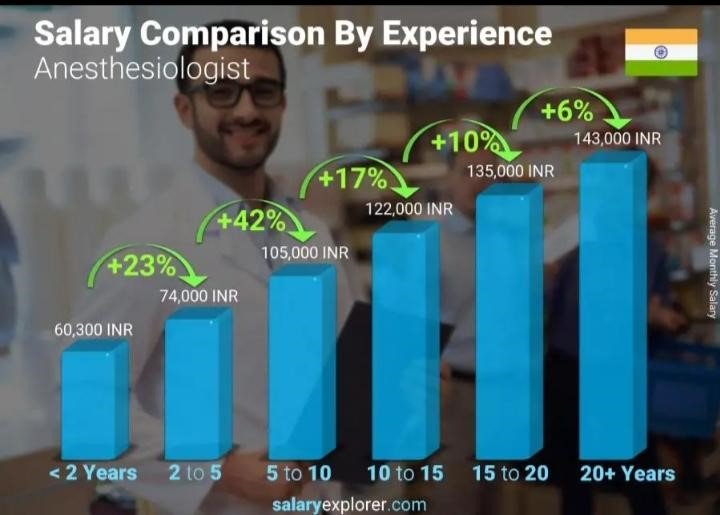 ● Controllable Lifestyle
Anesthesiologists typically have some control over the days, times, and hours that they work. And, this professional route enables you to care for your child while working if you are a new or pregnant mother, for example. In addition, the flexible work hours in this field allow for personal time and leisure activities like family holidays. In times of emergency, it is also simpler to find coworkers to cover your shift because most anesthesiologists have complementary expertise.
● Job Satisfaction and Instant Feedback
Being an anesthesiologist is fulfilling since you can tell immediately after the procedure whether you met the patient's expectations. Additionally, anesthesiologists get immediate input on their work. Apart from a regular degree, a diploma in anaesthesia after MBBS programme will also help you prepare for this work, which demands you to quickly control the body's functions and assess the impact of the drugs you use.
● Exposure to Advanced Technology and Devices
The healthcare sector continues to gain from new technology and advancements. As a result, anesthesiologists access medical records, dispense medications, and monitor patients by using computerised systems. These medical professionals can also easily and rapidly carry out their jobs by utilising reliable resources for retrieving patient data or storing policies.
● Less Responsibility for Patients
The anesthesiologist courses after 12th prepare individuals for a career in which they can focus on one patient at a time while their colleagues manage numerous cases and patients concurrently. And, compared to other medical professionals, anesthesiologists interact with patients less frequently. This is because the primary doctors are in charge of taking care of the patient's discomfort, infections, swelling, and dressing requirements if the procedure is successful.
Overall, anesthesiologists are unsung heroes who work diligently behind the scenes to ensure patients' comfort and safety during surgical procedures. And, if you have a passion for medicine, strong attention to detail, and the ability to handle stressful situations, a career in anesthesiology can be a fulfilling and rewarding route for you.
What skills are important for anesthesiologists?
For success in anesthesiology, you should have-
Effective Communication
Problem-solving Skills
Detail Orientation
Interpersonal Skills
Ability to handle stressful situations
What are the basics of anesthesiology?
The fundamentals of anesthesiology generally involve pain management before and after surgical, obstetric, therapeutic, and diagnostic operations as well as pain prevention, diagnosis, and treatment.
Is NEET mandatory for a career in anesthesiology?
Yes, to pursue the MBBS and MD level study programs—both of which are necessary for a successful career in anesthesiology, aspiring anesthesiology students must pass the NEET (UG) and NEET (PG).
How important is an anesthesiologist?
Anesthesiologists are essential in providing ongoing medical evaluation of the patient. They also keep an eye on managing the patient's breathing, blood pressure, body temperature, and other essential bodily processes.
Is MBBS important for anesthesiologists?
Yes, you must complete both the MBBS and MD degrees in anesthesiology after earning your 12th grade in Science to become an anesthesiologist. Typically, this profession requires 7-8 years of education and training.